Every Body's Personal Trainer Newsletter Sign-Up

Get the Facts on Fitness and Nutrition

Every month you will receive informative articles on health and fitness from leading experts. Topics will include:
• Exercise programs that make a difference.
• Ways to get motivated.
• How to lose weight through exercise.
• Selecting the perfect fitness equipment.
• Facts and fictions on health trends.
• You will learn how to maximize you workout and minimize the risk of injuries.
Whether you are a fitness fanatic, or just starting out on an exercise program,
you will find helpful information that will assist you in achieving your
personal best.
To receive the Every Body's Personal Trainer Newsletter, please send your email address to Eric@everybodyspersonaltrainer.com...
<![if !vml]>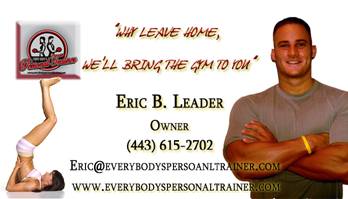 <![endif]>