Our Mission at Every Body's Personal Trainer
Our mission, at Every Body's Personal Trainer, is to provide only the best in personal training and customer service to our clients. At Every Body's Personal Trainer, our clients are also our friends, and we take our relationship with our clients very seriously.
Lets face it, life isn't easy. We all get tired at the end of the day, and sometimes feel lethargic. At Every Body's Personal Trainer, our mission is to not only educate our clients on how to exercise and eat properly, but also to help our clients increase quality of life.
It is my own humble opinion that before you can truly be happy and self actualize in life, you must first be happy and love yourself. Our personal trainers strive to to provide a balanced life that contributes to the individual's long-term physical, intellectual, and social growth. Our training programs encourage individuals from teens through seniors to enhance their levels of strength, endurance, and flexibility, in the most productive, practical, and safest manner possible.
If you are ready to get started, our personal trainers would love to meet you and set up a free, no obligation, consultation. Our trainers want to learn about you, and how we can help you achieve all of your goals. Feel free to contact us any time, and we look forward to assisting you.
Wishing You and Yours the Best of Health!!!!
Every Body's Personal Trainer Contact Information
Please do not hesitate to contact us at Every Body's Personal Trainer if you have any questions at all. We look forward to bringing you nothing but the best in customer service and in-home personal training..
Every Body's Personal Trainer

Phone Number: (443) 615-2702

Email: eric@everybodyspersonaltrainer.com

Hours:

Monday 5AM–9PM
Tuesday 5AM–9PM
Wednesday 5AM–9PM
Thursday 5AM–9PM
Friday 5AM–9PM
Saturday 9AM–9PM
Sunday Closed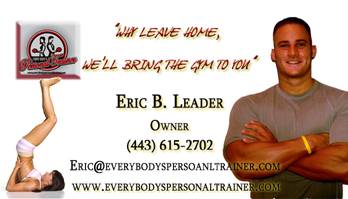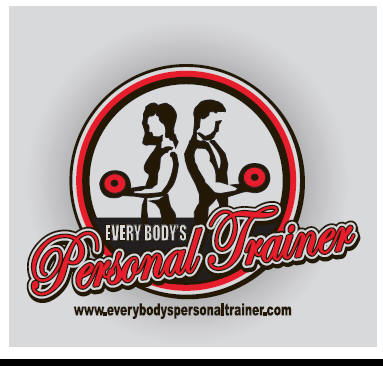 Click Here To Read Some Testimonials of Our In Home Personal Trainer
Personal Training Throughout Virginia Including:
Annandale
Arlington
Other Locations Include:
Sterling
Just Some Of Our Maryland Service Locations Include:
Personal Trainers in Ellicott City
Personal Trainers in Gaithersburg
In addition to:
Personal Trainers in Rockville
Personal Trainers in Silver Spring
We also have personal trainers in Pennsylvania. Some of those locations include:
Personal Training in Lancaster