A Letter From the Owner| Meet Our Personal Trainers| Getting Started ||Free Consultation | Contact Us
|Personal Trainer/Owner Eric Leader's Blog Our Mission Pricing Testimonials
Get Fit With A Personal Trainer In Tysons Corner

At Every Body's Personal Trainer, we have personal trainers in Tysons Corner, as well as various locations throughout all of Northern Virginia. If you live in the area, you need not look any further for your in home personal trainer. Not only that, but our sessions cost as little as $55 per hour, so stop being overcharged! Our instructors are among the best, and we look forward to working with you to achieve the results that you desire.

Have one of Tysons Corner's best personal trainers work with you in the comfort of your own home. Our instructors will bring the equipment necessary to give you a great total body workout in the convenience of your home. Give us a call today to get started on your path to achieving your goals with one of our in home personal trainers.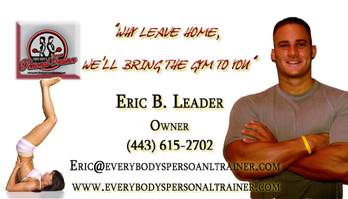 If you are ready, we always offer a free consultation, that way you can meet our staff and make sure to find the perfect trainer to suit your needs. Feel free to call us anytime at 443 615-2702 to book your free consultation and fitness assessment. We look forward to hearing from you!
Follow Us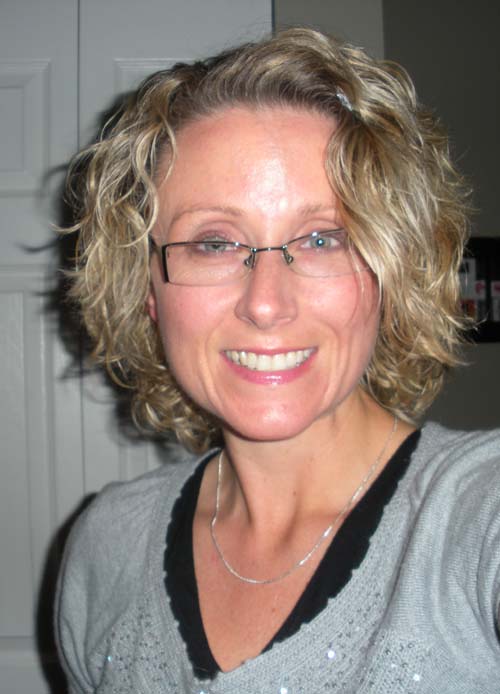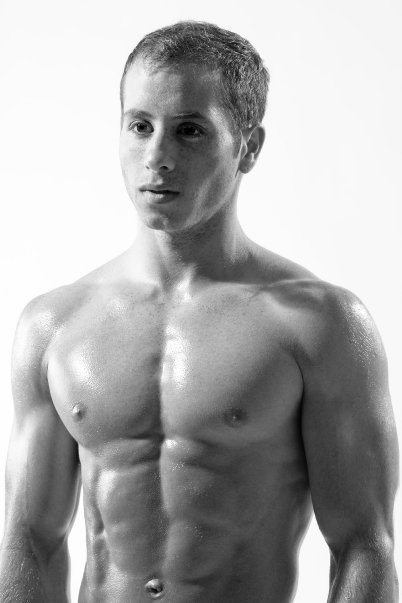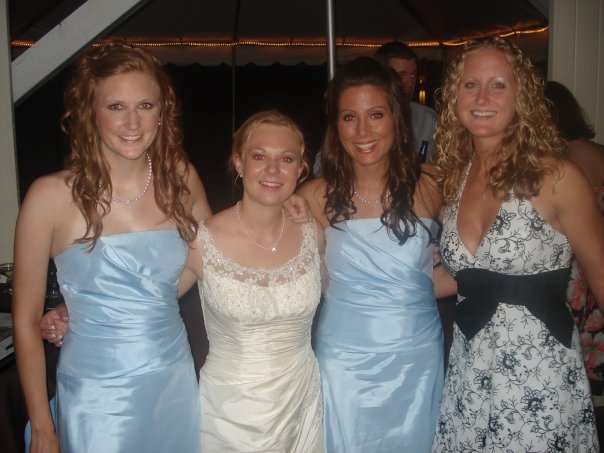 Contact Information
Please do not hesitate to contact us if you have any questions at all.
Telephone:

(443) 615-2702

E-mail:
So what do clients have to say about or home trainers in Tysons Corner?
Hey Eric,

I just wanted to drop you a note to let you know how I am doing. Since we began training two months ago, I have lost 12 pounds, and three inches on my waist. I feel so much stronger now, and I no longer feel winded walking up the stairs. Remember when I couldn't even do a push-up???? Thanks for all of your patience and constant support. You are very motivating and inspiring. I can't believe I actually look forward to working out :)

Barbara D.

Tysons Corner, Va

Eric,

I have been through so much over the last two years. After switching jobs and being down in the dumps, I gained so much weight and lost so much confidence. I was really on a downward spiral. I remember when we first met for our free consult. You had all of this energy and I thought you were going to kill me. I could not have been more wrong. With each workout you gradually made the workout tougher, to the point where now I feel like I am in great shape. My self esteem is so much better now, and I feel great. I consider you not only my trainer, but my friend. By the way, I hate lunges....

Robert Gathers

Tysons Corner

Regarding my Personal Training Experience with Eric Leader:

Eric and I have been working together for four months now. We meet for workouts three times a week. As a stay at home mom, I don't have a lot of flexibility with my schedule and wasn't sure about starting a fitness program. However, I knew I had to change. My cholesterol was measured over 200, and I was considered morbidly obese. I kind of figured I was a lost cause. I tried working out on my own, but was too bored. I hate working out!!! So I figured I'd give Eric a call. This was the best decision I ever made. I was really nervous when we first met. But Eric is very easy to talk to, and makes you feel so relaxed. We started slow, and before I knew it, I was ACTUALLY losing weight. It was slow at first, but after four months I have now lost 22 pounds. I even can see muscles for the first time. I have more energy to play with my kids and I know I owe that all to you Eric. Thanks for all your constant monitoring of me, and my nutrition as well.

Ruth Frederick

Tysons Corner, VA

Hi Eric,

As of 3 weeks ago, I was down to 170 which was 10 lbs. lost. I have a feeling I've lost at least 5 more...I'll let you know. But, the biggest change are the inches and clothes sizes I've dropped...and I have muscles now!

Here are my stats and how many I've lost since we started on 7/7:
bust area 38" -- lost 3.5"
bicep 12 -- lost 1"
waist 32" -- lost 6"
hips 41" -- lost 6"
thigh 23.5" -- lost 3.5"
calf 15" -- same but lots harder! :)

I have given all of my size 14s to Goodwill and some of my 12s. I am starting to fit into size 10s!!! Have a bunch of old clothes I was hanging onto and am wearing them again! I think my wedding dress will actually fit! :)

Eric, regardless if I win this contest or not, I cannot thank you AND ADAM enough...I feel so much better and I look so much better!!! I have energy I never knew I had and am really proud of myself for doing this for me and my good health. I will be a much more confident bride now. I have 1 more month and hope to continue the hard work.

Thanks again

Lisa

Tysons Corner, VA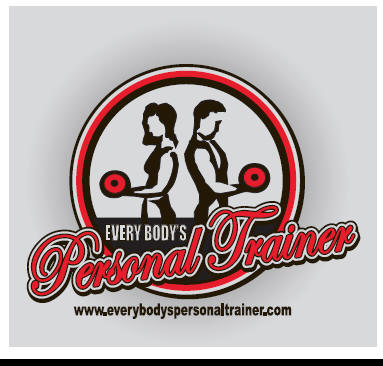 Why Personal Training in Tysons Corner Works
ACCOUNTABILITY & MOTIVATION- Trainers are experts at holding you accountable. You have a set, paid appointment. Your trainer will be there waiting for you with a smile on his/her face each and every time you show up. They help you to not only develop your own personalized goals but to also develop a realistic and achievable plan to attain these goals. Trainers have the ability to believe in you even when you are feeling at your lowest and don't believe in yourself. "CAN'T" is not in a trainer's vocabulary.

DEVELOP A ROUTINE- Sure, it's easy to get to the gym and hop on the elliptical, but then what? Trainers are educated on the most effective ways to help you get to your fitness goals. They will work with you to develop a routine that makes since and is realistic for you. If you haven't worked out in months and are just returning to the gym, a trainer will not expect you to begin a fitness regimen consisting of 60 minute routines 5 days a week. A trainer will help you to figure out what makes since in your life that will maximize your time in the gym but not overwhelm you. They will work with you to develop an exercise routine that takes you on the path to achieving your personal goals. All along the way holding you accountable and providing motivation!

FRESH NEW PERSPECTIVES & IDEAS ON HEALTH, NUTRITION, AND FITNESS- There is an overwhelming amount of fitness, nutrition, and health information available. It is impossible for the average person to have time to sift through this information for what is most valid, accurate and up to date. It is the job of the trainer to stay on top of health trends and continue their education in order to provide you with the safest and most accurate information in the industry. Is that new fad diet really effective? Will I really get a bikini body by doing that popular workout? Is it true what I read in this fitness magazine? These are just some of the questions trainers deal with on a daily basis. Trainers are able to use their education, knowledge and experience to provide you with tips and tricks to help you develop a healthier lifestyle. We are constantly sharing recipes and ways to contend with obstacles in your nutrition such as "candy in the office", or how to manage menu's when dining out with friends. Often trainers are the first to say, "Hey, you've been complaining about this for a little bit. Maybe you should go see a doctor, massage therapist, nutritionist, etc." We see you on a regular basis and are able to recognize if something is different or just not right and are happy to point it out and refer you to the appropriate expert. We care about your health and well-being! And we will hold you accountable to taking care of yourself nutritionally, physically, and with your overall health!

SOLID, CONSISTENT, NON-JUDGMENTAL SUPPORT- Not everyone has your best interest in mind. Your trainer, though, only cares about you and your success. Your trainer will be there. Each hour you spend with your trainer is an hour to focus on you and only you! They will provide consistent feedback to help you better yourself and achieve your goals. Most importantly, the trainer is able to do this without making you feel inadequate or judged. We have all gone into the gym and worried about what we look like doing an exercise or compared ourselves to someone else. Trainers don't judge or derogate. They help you to see all of your successes, big and small, even when you can't see them yourself. Through this support, trainers will hold you accountable and motivate you, despite your feelings about yourself!

PROPER TECHNIQUE & FORM- Watching all the you tube videos in the world and reading all the fitness magazines, does not substitute having a person by your side providing you immediate feedback on form and technique. It is very easy to hurt yourself in the gym. Trainers pay attention, cue both your mind and your body and help you achieve your goals more quickly by making sure you are doing each exercise correctly. They can help you develop better running form, improve your posture, and increase your strength by teaching you to recruit the proper muscles and making a mind body connection. With each exercise trainers will hold you accountable to proper form and technique preventing injury!

INJURY PREVENTION and/or INJURY REHAB- Often people shy away from equipment in the gym because they are afraid of hurting themselves. Likewise, one may stop attending the gym due to an injury. Trainers will teach you how to use equipment properly so that you do not injure yourself. Trainers will also work with you to prevent injuries in everyday life by helping you increase your balance, flexibility, and core strength. They are able to focus on specific exercises that will benefit you based on your activities of daily living. And in the chance that you have suffered an injury, trainers are able to work with you to safely exercise, keep your range of motion, and get your strength back. Just recently, I broke my leg. My trainer did not let me stop working out. After communicating with my physical therapist, we were able to develop a plan for me to keep up my upper body strength and begin rehab on my leg. A personal trainer will not let you use an injury as an excuse to not workout!!

SPORTS SPECIFIC TRAINING- Are you an athlete? Even a recreational athlete can get better at their sport. Trainers have studied body patterns and movements. They know the best exercises to help you develop strength, endurance, speed, and agility for your sport. A trainer will know if you have been keeping up your routine through your performance and will hold you accountable to the sports specific exercises in your program!

MAXIMIZE WORKOUT/MINIMIZE TIME- You will burn more calories in less time when working with a trainer. A trainer develops a program that is efficient and allows you to get the most in, in the shortest amount of time. Time does not need to be lost at the gym. If you are finding it hard to find time to workout, not only will a trainer help you to get the most out of your work out, but they will teach you how you can do that on your own. Each week trainers will follow up to see if you achieved our workout goals for the week, holding you accountable to exercise on your own time and make tweaks to the program to help you be successful!

PERSONALIZED PROGRAM- Personal training is just that, PERSONAL! A trainer will develop a program that is specific to you and your goals. If you have an injury, if you want to climb a mountain, if you want lose weight to become pregnant, have lower back pain… The program will be specific to you and only you! A program your trainer takes the time to develop and teach to you. You know they are going to hold you accountable to achieving the goals of that program!

RELATIONSHIP BUILDING- Some of my favorite time during the week is with my clients. You develop a relationship with your trainer like no other. Your relationship is very personal. There are not very many people whom you share your goals so specifically, who in turn will work so diligently to help you achieve them. Often that hour (or two, or three) a week you spend with your trainer, is the only time in your week that is truly devoted to you, your goals, and your successes. I have had sessions in which my client is angry and just wants to workout. There is no talking for the hour. I have had sessions with clients who have recently lost a loved one and their hour with me is their time to escape. I also have sessions with clients where they are so excited to share with me their personal successes and how what we are doing in training is translating into their life outside the gym. Often times intimate details of life are shared in sessions and I am so grateful that people trust me enough to allow me these details. It is these personal relationships and the intimate knowledge of who you are that helps the trainer work specifically with you and to hold you accountable to your goals!

Although this post is titled 10 Benefits of Personal Training I thought it was important to emphasize the eleventh. The one that is reoccurring through each bullet point. The benefit that above all is most important.

RESULTS- Working with a trainer will allow you to achieve the results that you cannot achieve on your own. Each person's goals are extremely personal. Whether it be weight loss, injury rehab, or companionship. A trainer is going to develop goals that will lead you down a path to success. As a trainer, I work diligently with each of my clients to help them recognize their results, tangible and intangible, as well as results they never anticipated having. It is these results that not only hold you accountable to me, but they hold me, your trainer, accountable to you!

Finally, why should you work with our personal trainers in Tysons Corner?

As a trainer himself, owner Eric Leader took it upon himself to find the best of the best in Tysons. What does that mean? Trainer that have compassion, knowledge, experience, and a desire to help their clients reach their goals. The job of a trainer doesn't stop after the session. An EPT trainer will be with you every step of the way. We will text you on your off days to see how you're eating, make sure you are doing your cardio, and be there whenever you have a question. We take a 24/7 approach! Any time you need us we are here. So let's do this are you ready?

Studies prove time and time again that when you learn how to workout properly with a trainer you will be empowered with the knowledge that will keep you healthy throughout your lifetime, achieving your goals quickly and safely. We specialize in programs that will minimize your time spent working out and maximizing your result. At EPT, we have a stable of qualified trainers. Our trainers, have a minimum of 5 years of personal training experience and is certified one of the five highest regarded certifications (NASM, ACSM, ACE, NPTI, NSCA). With our teams' extensive knowledge in the science and practice of exercise & movement, YOU will get the greatest workout. Online training and coaching are also available. Single meeting for functional analysis, or via Skype. Phone app, ios/android mutual review. After extensive research, we will work with you using the most user-friendly fitness apps. The choice is yours with either In-Home training or studio access in the DMV area. If we work with you in your location, we will bring the necessary equipment. We also specialize in elderly / senior training and disability training

Need more reasons to use a home personal trainer in Tysons Corner?

1. Accurate evaluation: Personal trainers evaluate your fitness goals to design a progressive program that will get you where you want to go. This starts with a thorough evaluation of your current fitness level that can be duplicated in the months that follow. Your trainer will make sure you know just how much you've improved.

2. Motivation: Not only do trainers make great exercise buddies, they offer a no-excuses attitude to motivate you to continue working toward your goals.

3. Perfect positioning: Head neutral, back flat, core tight, shoulders retracted – these are some of the instructions your personal trainer is likely to command. Just don't take them lightly. Better body positioning on cardio and strength-training equipment will help you maximize each movement and avoid injury.

4. Education: A personal trainer knows the why behind every squat, curl and crunch you make and how it will get you one step closer to reaching your fitness goals.

5. Follow through: Your personal trainer is invested in your success, too. When confidence waivers, your trainer will be there to pick you up and keep you going.

6. You Get Much Quicker Results - Working with a top qualified fitness trainer is your proven fast track to success. Your trainer's expertise, clear focus, and targeted resources will get you to your goals at maximum speed—without detours, wheel-spinning, or backsliding.

7. It's Much More Effective And Efficient - You don't waste your precious time, energy, and other resources doing what doesn't work. You do what works for YOU, you do it consistently, and you reach your goals much faster.

8. You Get Solid, Consistent, Unwavering Support - As you may know, not everyone in life always has your best interest at heart. But your trainer's only goal is your total success.

9. You Join The Winners! - The widespread use of personal trainers by successful people in all walks of life is the strongest testament to the difference a good fitness coach will make in your life.

10. You're Way Ahead Of Those Who Try To "Go It Alone" - Many people will be "penny wise and pound foolish" by trying to do it all by themselves. As a result, the success that could quickly have been theirs may come slowly—or not at all. Why put yourself through that?

If still curious about personal training please take a look at these two great websites:

Follow Us